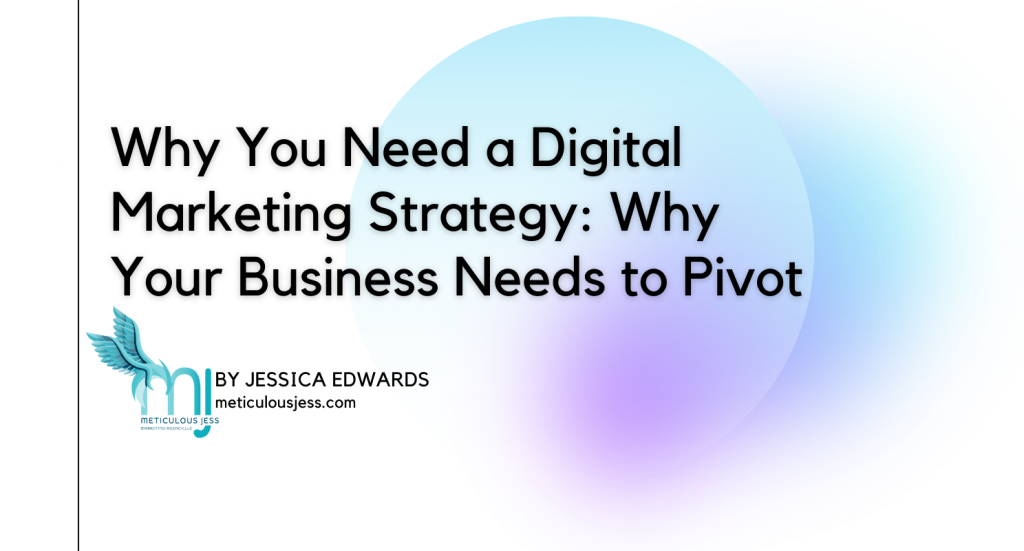 Why a digital marketing strategy? We live in an age where technology has taken over. Over the last decade this trend has only accelerated, and now our society is so reliant on it that we often take for granted how much of our lives are lived online. This means that businesses have to evolve with the times- meaning many companies need to pivot from their traditional marketing strategies to a digital one. In this blog post I will discuss what makes up a good digital marketing strategy, why you might want to switch your business's focus, and give tips on how you can create or improve your own strategy!
Here are some of the most important aspects that make up a good digital marketing strategy: proper keyword and market research; branding and content creation, website optimization for search engine ranking; and using social media platforms like Facebook, Instagram and LinkedIn as part of an overall campaign.
Before getting started, it is important to do research on the market in which you are competing. Find out what your competitors are doing right, and what they are doing wrong. How much are they selling their goods for? What guarantees, claims or warranties are they offering? What makes your products/services different? How is their online presence? How many competitors are there? It is important to pose these questions and so much more. After doing extensive research, you can start to hone in on your brand, what sets you apart, and how you plan on displaying those online.
Branding is extremely important. With millions of companies and individuals selling items and services online, it is important to stand out. Consumers are more likely to notice you, follow you and recommend you if your brand is eye-catching and easily recognizable. It should be apparent what your company represents and offers from your logo, name, tagline, color choices or a combination of the above. Creating engaging and relevant content, utilizing the aforementioned elements are especially crucial for adding value and engaging customers online. In addition, digital content is an opportunity to optimize your business for the search engines as well.
Using Search Engine Optimization (SEO) as part of your digital marketing strategy helps ensure that all online content related to your product or service ranks high in search engine results pages (SERPS). Consistently targeting keywords relevant to both organic searches AND customers' questions are crucial when executing an effective internet marketing campaign. Keyword research is always step #1 for SEO. It is important to see what relevant terms consumers are actively searching for so that you can use those keywords on your site and blog posts. Knowing what keywords are going to generate the most leads organically is where hiring a SEO expert can be beneficial to your business.
An SEO expert can select the best keywords for your business and fully optimize your website with on-page and off-page optimization. Search Engine Optimization is one of the best ways to get your business noticed, with the highest return on investment. On average, businesses usually experience a 10x return on investment for SEO efforts wheras Paid Advertisements yield much less favorable results. Unlike paid advertisements, SEO efforts continue to add momentum and value to your online presence and bottom line.
As more people turn their smartphones into personal assistants and prefer apps over browsers when surfing the internet, it is vital for businesses not only have mobile optimized website but also ensure they are utilizing effective techniques for reaching people through their mobile devices (i.e social media, apps, email, SMS campaigns, etc.).
Social media has become a major platform for digital content consumption. You can use this site to reach and engage with your audience on topics that interest them, offer promotions or deals, create buzz around events or products and build relationships online. In addition, digital social networks serve as an excellent customer service channel where you can respond quickly to questions in real time without the need of phone calls or emails which could take days to get back responses from employees during off hours.
A lot of people believe that they need only one type of social media platform- but in reality it is about having a diverse set so that you get different results from each. It also helps keep things fresh because not everyone always has the same interests online. With an effective social media marketing strategy in place, it can be beneficial to have multiple streams of exposure by utilizing multiple online platforms. By doing so, it can help your business reach an exponential amount of people within your market.
A well-developed marketing strategy is the key to success in business today. It's no longer enough to have a website, you need an SEO plan and social media strategy as well. This blog post discussed all of the components that go into developing a successful digital marketing campaign for your company; from keyword research to creating content that will get people talking about what you do best. If this sounds like something that could help your bottom line grow exponentially, we would love to discuss how our team can put together a winning strategy tailored just for your needs!