Customer Service: How It Can Make or Break your Business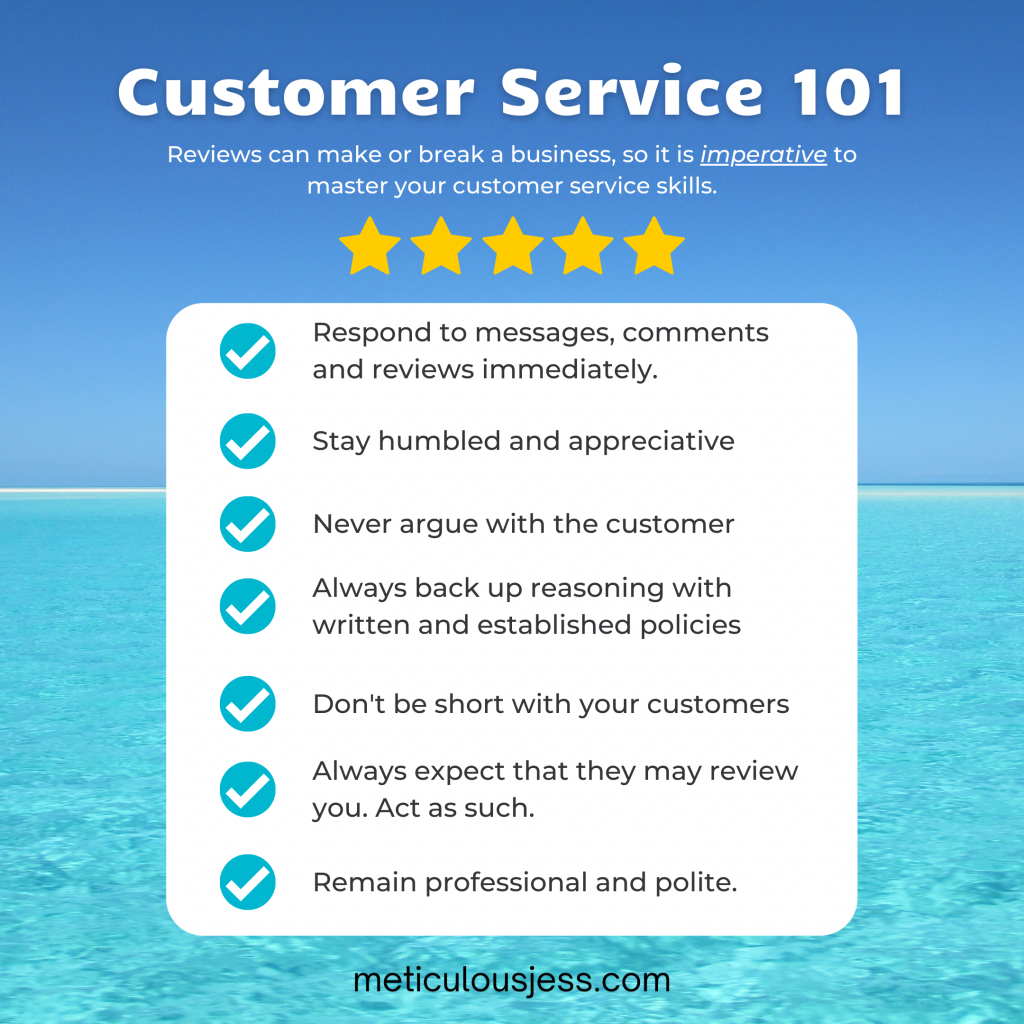 Proper Customer Service practices are essential for your business. Regardless how great your products or services are, you can easily lose customers due to a lack of customer service.
For example, we used to love this local breakfast place until the owner was extremely rude when they made a mistake on my order. She claimed I ordered it wrong and refused to make it right. Even though her food is excellent-We will never return due to her lack of customer service. 
Don't take your customers for granted. Treat each one like they are precious. Every satisfied (or unsatisfied) customer can easily leave a review online or tell all their friends about their experience.
You can invest in all the best marketing strategies, but if you are known for poor customer service-you will need to majorly overhaul your strategy to fix this reputation. It can be an uphill battle.
So, make sure you always keep your customers-and their satisfaction-as your #1 priority. If your customers feel valued and respected your success will be much easier to attain and maintain.
Here are some basic tips for ensuring you provide the best customer service possible:
1. Respond to messages, comments and reviews immediately. Not only will Google favor your business over others who do not engage with their customers, but your customers will appreciate you acknowledging their opinions or concerns. When potential customers find you on Google or social media, they will see that your business clearly cares about their customers and reputation by respectfully responding to each individual. If you are slow to engage, you risk the offending the customer or losing their business completely.
2. Stay humbled and appreciative. Even if you do not feel grateful for their review because it has some negative feedback-thank them anyways. You can simply say "I am sorry you did not receive the 5 star service we are usually known for. I will make sure to discuss these concerns with my staff to ensure that we do not make this mistake again in the future. Thank you for bringing it to our attention so we can use this as a training opportunity to make our business better."
3. Never Argue with the customer. Even if you are right, and they are wrong, it does not help you in anyway to argue with them. Simply apologize for their experience and tell them you want to make it right. In order to diffuse the situation, ask them "What can I do to make this right?". Whose fault it is doesn't matter-the solution is what matters.
4. Always back up reasoning with written and established policies. For example, if your customer is upset about their inability to get a refund, than apologize for their inconvience and simply show them where the policies are made clear to them prior to purchase. If your policies are not clearly written or displayed-it is your responbility as the business owner to ensure that they are. The Better Business Bureau will not side with a business owner if they are enforcing policies that are not established and displayed properly. How can a customer make an informed purchasing decison if they do not have access to all the necessary information prior to their purchase?
5. Don't be short with your customers. Even if they are irate, rude, and absolutely wrong, you should always take the upper ground. How you react will be detrimental to other customer's perceptions regarding how to run your business and treat your customers. Even if the irate customer is absolutely rude, you are the one being tested and judged by others on how you react. Treat them overwhelmingly with kindness, and do what you can to diffuse the situation. Keep in mind that sometimes, customers could be going through something devastating in their own life and their reactions could have nothing to do with you at all. The irate customer could have just found out their was a death in the family, and their feelings come bubbling up when conflict arises. More often than not, reacting with kindness and humility will result in loyal and appreciative customers. If you are seen arguing with a customer by onlookers, you will appear as the one in the wrong no matter what.
6. Always expect that they may review you. Act as such. Never say anything you could regret. Always thank everyone for their business and time. Act as though every customer is a potential critic so you don't get lazy with your customer service.
7. Remain professional and polite. Do not discuss personal issues, gossip, or complain in front of your customers. Everything you say and do reflects back onto your business, so keep it professonal and uplifting! You do not want people to feel negative feelings when they enter your establishment-so leave negativity at the door.