What is a Roadmap to Success?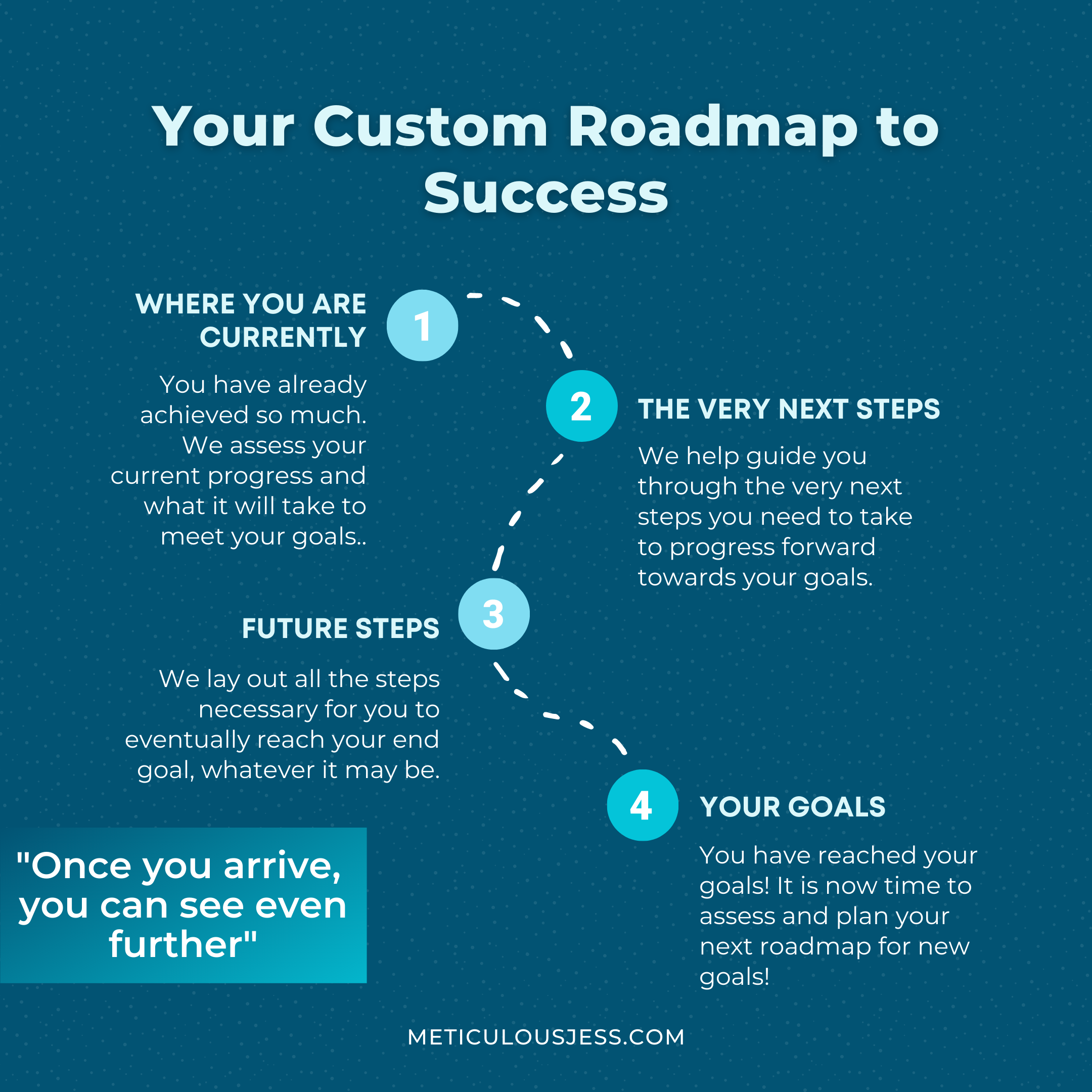 We want your business to succeed and thrive at Meticulous Jess Marketing LLC.
Success does not just happen, you have to plan for it and work hard. Having some help and guidance can really clarify the steps you need to take to get there, and we can help. We lay out a specific roadmap to success for each one of your goals, no matter how ambitious they are!

1. Where You Are Currently:
Our agency assesses where your company currently is, in relation to its goals. You have already achieved so much, starting and operating a business is no easy feat! Whether you have just begun your journey or have been doing it for many years, we can help you get to your end-goal! This first step entails conversations with us about your current processes, challenges, and your eventual goals so we can all be on the same page and help create a unique, roadmap to success for your business!
2. The Very Next Steps
We don't just write out a plan-we help you implement it. Every business is different and has different needs. Whether your next steps are to streamline your processes, re-do your website, re-train your sales staff, implement a social media campaign, etc.-we help make sure it is done seamlessly and professionaly in order to achieve the best results for your business. We always maintain your brand identity, your company's values and missions during this process. It is important never to compromise the integrity of your business in order to gain more sales. We not only help you gain more sales-but we do it while also improving your brand awareness, customer experience and quality of experience. 
3. Future Steps
Once we have completed the very first, crucial steps to gain momentum and progress for your company, we move on to the very next steps. Sometimes this means hiring more people, expanding your digital presence, running more campaigns, advertising or networking more locally, partnering with another business to offer complimentary services/products. Your goal could be to eventually own your own embroidery machine to add to your screen printing business. Until you can afford the machine-you may partner with another embroiderer to offer that service until you can get a machine of your own. Success happens when you appropriately scale and grow your business without overextending your capital and resources. 

4. Your Goals
You have reached your goals! If you have multiple, unrelated goals we can make specific roadmaps for each goal. When you reach your goals-you can start a roadmap for your next goals because "once you arrive-you can see even further!". Never settle, always strive for more!