Build a

Foundation for

Success
Your brand and online presence is more crucial than ever to improve the "3 R's"
R
eputation,
R
evenues, and
R
etention!
Our team of experts can strategically design and meticulously refine your brand and messaging for optimum success. Whether you are just getting started or feel that your brand just isn't communicating as effectively to your target audience as it could, contact us and we can help!
Branding & Design Services
Phase 1 is the first step for most of our client's journeys to grow their business. Whether you need a new brand strategy or simply refine your current one, we can help!
When you hire us for branding & design services, we think of it all.
Jess is your personal designer who will work closely with you to ensure that all of your designs and branding assets are congruent with your vision, messaging, mission, and your growth strategy.

You will have all files needed for each design so you can accomplish the following:
Your marketing strategy is only complete with professionally designed graphics that are in alignment with your brand and messaging. Your customers and strategic partners will respond positively to thoughtfully and beautifully presented materials that achieve the following: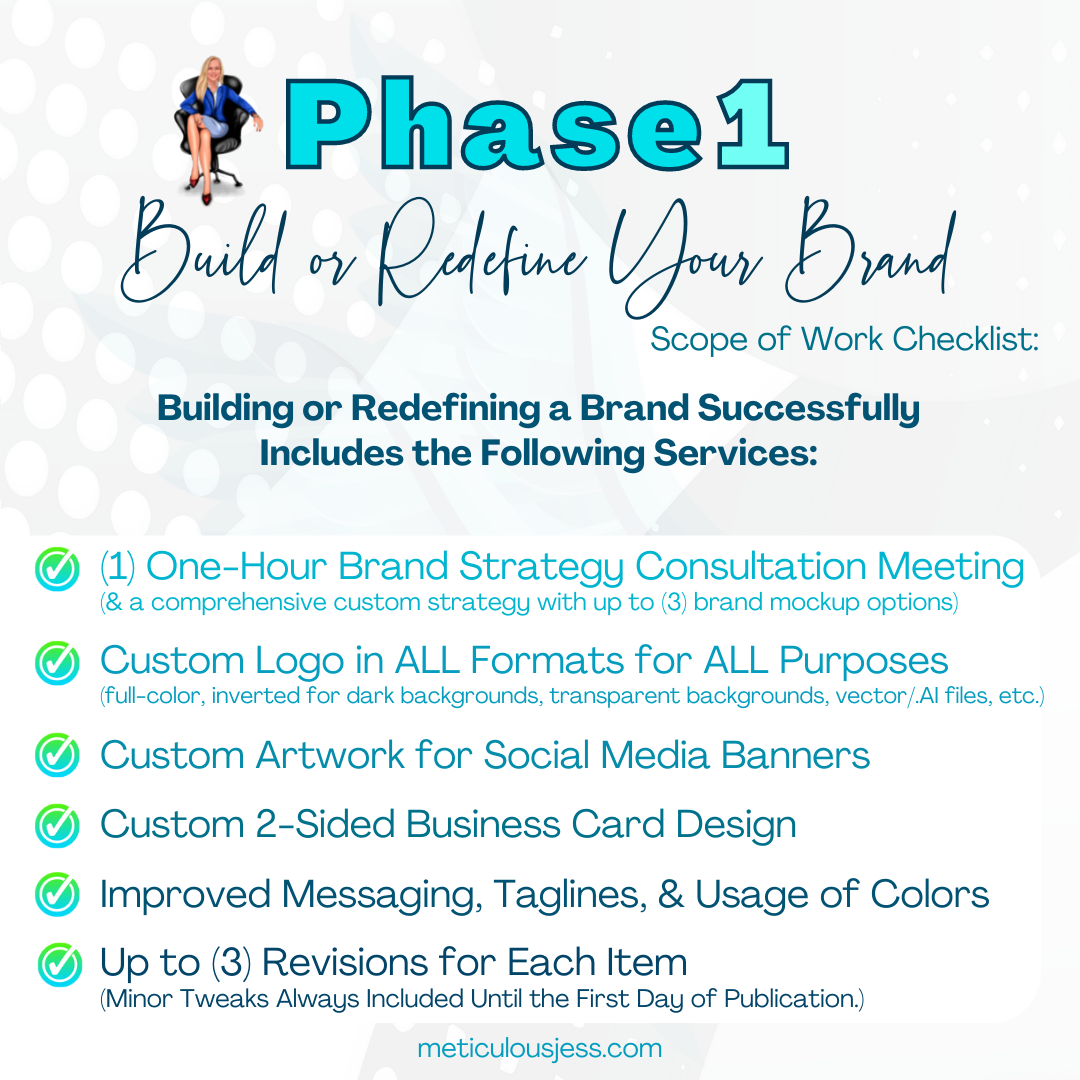 Need a recognizable logo to help create brand recognition and trust with your prospective customers? Or do you have a Logo already but aren't in love with it? We can help create one for you! We value your input and know that this is your baby, so we are always open to revising the logo as needed. Stand out with a creative, one-of-a-kind logo that is created within Adobe by highly skilled graphic designers. You will receive all necessary files and versions for any application.
Our 3-Phase Strategy for Success
Your marketing strategy is only complete with professionally designed graphics that are in alignment with your brand and messaging. Your customers and strategic partners will respond positively to thoughtfully and beautifully presented materials that achieve the following:
We can create a brand new website or make major edits to your existing website to help build brand recognition, create a proper foundation for SEO, and increase conversion rates by creating trust and transparency with prospective customers. We use high-end plug-ins, forms, site security, and website design skills to help streamline your sales process, help your customers make an educated buying decision, and impress them with attractive and engaging buttons, images, content and more. *see E-Commerce pricing below for online storefronts*